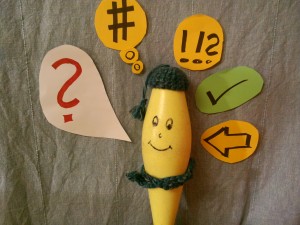 While we try to be as clear as possible on our webpage, we receive plenty of mail via our contact form every day. On this page we collected some of the questions that keep popping up on a regular basis.
The answers sometimes contain links to the pages where you may find some additional information that you might be interested in.
Q: Will it be possible to wear the badge also on the ankle instead of the wrist?
A: Good news for all contact jugglers: yes, there will be badges that you can wear on your ankle instead of the wrist. But as in the last years you'll have to choose at registration if you want to wear it on your hand (wrist) or foot (ankle) and can not remove the badge until the end of EJC or it loses its validity.
Q: What's the deal with "getting your money back in case EJC 2015 is cancelled?"
A: To end all rumours about cancellation: The EJC 2015 in Bruneck/Brunico is definitely going to take place!
Q: Is it possible to arrive early?
A: No, EJC starts on Saturday August 1st. Coming early is only possible if you register and help as a setup-volunteer (click here to get in contact with the volunteer-coordinators).
Q: Is it possible to stay one/more day/s longer?
A: No, EJC ends on Sunday August 9th. Staying late is only possible if you register and help as a breakdown-volunteer (click here to get in contact with the volunteer-coordinators).
Q: I have booked and paid my EJC-ticket, why haven't I received my e-ticket yet?
A: This year the EJA has created a totally new preregistration system. In the last week of June the system administrators started distributing the the e-tickets. If you have not received your e-ticket yet or if you have further questions about your payment, please contact our prereg-coordinators: prereg@eja.net.
Q: Are preregistered tickets transferable? Can I pass my ticket on to someone else in case I can't come to EJC after all?
A: Yes, there will be the possibility to transfer tickets to another person via the prereg-coordinators. Please contact them to work out the details about transfering your booked and paid ticket to someone else: prereg@eja.net.
Q: I heard there will be a special ticket for jugglers who attend the French Juggling Convention right before EJC 2015. Will that be available?
A: Sorry, there won't be a special "French-ticket" for EJC 2015. We worked hard on finding a solution but it was causing too many administrative problems (for the prereg-system and for the registration on site). But nevertheless we hope that many French jugglers will come to EJC and that way have a great 2-week-convention-experience!
Q: If I volunteer, do I still need to pay my EJC-ticket?
A: Yes, everyone needs to buy their ticket! The convention is organised "by jugglers for jugglers", so everyone is required to volunteer some time during the EJC. Without everbody volunteering (so if everything that needs to be done is done by paid people/professionals) the EJC price would be at least three times as high as it is.
Q: What are the underage-rules for EJC 2015?
A: If you are 15 or younger you are not allowed to attend EJC on your own – you need an adult (over 18) to be with you (if it is not one of your parents, this person needs a parental consent). If you are 16 or 17 you are allowed to attend EJC on your own but you need a permission-form signed by your parents (or legal guardian). Without this consent you can not attend EJC! You will receive all necessary forms when you register for EJC.
Q: Will there be a mixed area for camping and caravaning?
A: We are sorry but there will be no mixed camping/caravaning-area at the EJC 2015 site. We tried to make it work but there simply is no good solution.
Q: Will cooking be allowed on the campsite?
A: No, as fire-regulations apply on the whole campsite, cooking will not be permitted there. But there will be a designated cooking-area right next to the campsite (also equipped with water and dishwashing-facilities).
Q: What about shade at the campsite? Are there any trees to camp under?
A: Unfortunately there are no trees at the campsite so there is no shade.
Q: Can I bring my dog to EJC 2015?
A: No, animals will not be allowed on the whole EJC site (including the camping and caravaning zones).
Q: Will there be wifi onsite?
A: Yes, free wifi will be available onsite.
Q: Will there be an aerial-area this year?
A: Yes, there will be an aerial-area with special workshops this year.
Q: Will there be a gym dedicated especially to acrobatics?
A: Yes, this year we'll have a gym designated especially for acrobatics.
Q: I'm a trader and want to sell my products at EJC 2015. What do I need to do?
A: Get in contact with our trader-coordinators by clicking here.
Q: Is it still possible to pre-order the EJC T-shirt?
A: No, it is no longer possible to order the Official EJC 2015 T-shirt. The deadline for all Official EJC 2015 T-shirt orders was June 30th. The ordered T-shirts will be waiting for you to picked up at the merchandise stand on our EJC-site. But check out the other EJC 2015 products that are still available at our merchandise-partner stikkma.de!
Q: Why is there an empty spot in the Official EJC 2015 T-shirt design?
A: Because that's your chance to fill in a prop that you are missing in the list. Textile pens will be available at the merchandise stand.
Q: If I don't preregister but buy my ticket onsite: what payment options are there?
A: If you buy your ticket onsite you will have to pay in cash (take a look at the prices here). There are no options for payment by EC- or creditcard.
Q: What is the weather like in Bruneck in August?
A: Don't be fooled by the thought of EJC being in the middle of the "cool" mountains: in Bruneck it gets very hot during the day, so be prepared for sunny and hot weather with the possibility of thunderstorms in the evening. In the night it can get quite chilly, so prepare yourself for that as well.
Q: What's the policy concerning alcohol and drugs in Italy?
A: Alcohol will only be sold to persons of 18 years or older. All drugs (including cannabis) are illegal.