Thank you for a great EJC 2015!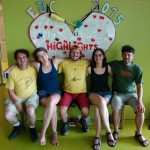 We, the core-team of EJC 2015, are extremely happy about this year's EJC. Thanks to everyone who took part in this great festival! It was only possible because so many people worked together and we want to thank everyone involved: Our partners in Bruneck, all team-leads and team-members, the setup- and tear-down helpers, everybody who volunteered – in short:
Thanks to all the jugglers and local people who made EJC 2015 happen!
.
EJC movie available now!
The official EJC movie is available now at our merchandise-partner stikkma. Profit from a special offer until October 11th: only 29 € instead of 35 €. Check the stikkma-webpage for details and watch the trailer here.
Numbers and Facts (more to follow soon)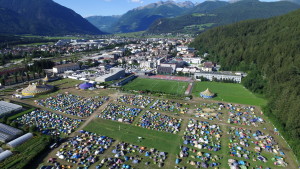 In total we had about 4042 participants (not including all the enthusiastic participants of the public juggling workshops – and certainly not including the hundreds and thousands of spectators who enjoyed the program in the city). Onsite we had about 600 workshops announced on our beautiful workshop-wall (that we hope to see again soon at some other conventions…). About 4900 people saw and were awed by the Gala Show in the Big Top.
To be continued when more numbers are in …
Good luck to the EJC 2016 team and all the best for the preparations!
Pictures from EJC 2015
Have a look at some impressions from EJC 2015 at the Photo-Section and on our Facebook-page.
Opening Parade and Opening Show on the Townsquare of Bruneck/Brunico